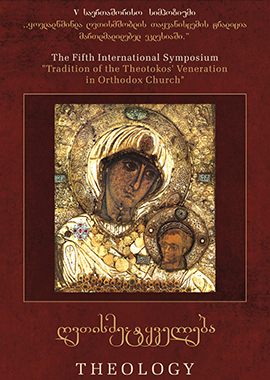 13.05.2014

THE FIFTH INTERNATIONAL SYMPOSIUM IN TBILISI
In Georgia, in May 12-19, with the blessing of His Holiness and Beatitude the Catholicos-Patriarch of All Georgia, Archbishop of Mtskheta-Tbilisi and Metropolitan of Bichvinta and Tskhum-Abkhazia - Ilia II was held the weekly event regarding the Theotokos' Adoration.
On 13 May, at 12:00, in "Courtyard by Marriott Hotel" was opened the Fifth International Symposium. Clergy and scientists from 14 different countries of the world visited Georgia to participate in the symposium. In the frame of the weekly event the participants and guests of the symposium went on pilgrimages to different regions of Georgia.
The organizer of the Symposium is "International Centre for Christian Studies" at the Orthodox Church of Georgia. The Scientific Centre was founded in 2002. Its aim is to restore harmonic cooperation between religion and science.
The main theme of the Fifth International Symposium is "Tradition of the Theotokos' Veneration in Orthodox Church".

Program of the Symposium.pdf
To view photos follow the link
To listen for audio version follow thelink
To listen for audio version follow the link 13.05.2014_mrgvali magida.mp4
To listen for audio version follow the link 13.05.2014_mit1_1.mp4
To listen for audio version follow the link 13.05.2014_mit1_2.mp4
To listen for audio version follow the link 13.05.2014_mit2_1.mp4
To listen for audio version follow the link 13.05.2014_mit2_2.mp4
To listen for audio version follow the link kortiard grand-ball 16.05.2014 sess1.mp4
To listen for audio version follow the link kortiard grand-ball 16.05.2014 sess2.mp4
To listen for audio version follow the link kortiard grand-ball 16.05.2014.mp4
To listen for audio version follow the link kortiard mit 2 1 16.05.2014.mp4
To listen for audio version follow the link kortiard mit 2 2 16.05.2014.mp4
To listen for audio version follow the link kortiard mit 2 3 16.05.2014.mp4
To listen for audio version follow the link kortiard mit 2 4 16.05.2014.mp4