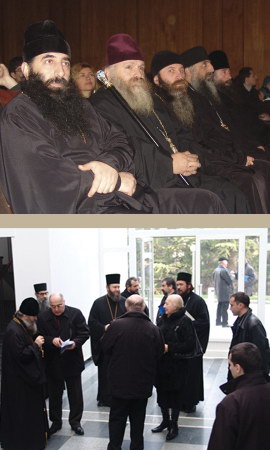 14.12.2012

THE SECOND INTERNATIONAL CONFERENCE
On 14 December, 2012, in Tbilisi, in the Conference Hall of Courtyard by Marriott Hotel, the Second International Conference – "Turning Back to Spirituality" was held. The Conference was dedicated to the 35 years since the enthroning and 80th birth-day of His Holiness and Beatitude the Catholicos-Patriarch of All Georgia Ilia II. Apart from Georgian scientists, scientists from France, Italy, Lithuania, Poland, Russia and the U.S. participated in the Conference. Clergy of the Orthodox church of Georgia, representatives of the Parliament and Government of Georgia, representatives of Diplomatic Corps, Non-Orthodox Confessions and society of Georgia were invited to the Conference.
The International Conference was opened by the Chairman of the Board of the International Centre for Christian Studies at the Orthodox Church of Georgia – Acad. Davit Muskhelishvili. Greetings were delivered by the Chair of the Parliament of Georgia – David Usupashvili, the President of the Georgian National Academy of Sciences _ Academician Tamaz Gamkrelidze and Archpriest Henryk Paprocki (Poland).
Report on the theme of modernity and eternal values was presented by Daniel (Datuashvili), Metropolitan of Chiatura and Sachkhere.
In the papers presented on the Conference, the most important theological and social problems discussed in the epistles of His Holiness and Beatitude, the Catholicos-Patriarch of All Georgia Ilia II, were analysed.
In the format of the Conference, presentations of the photo-album "The Time to Favor" (Travel Expedition to Historical Georgia – Following the Path of Saint Andrew the First-Called) and the first volume of "Works" of St. Priest Martyr Grigol Peradze were held.
On 15 December, in Tbilisi Marriot Hotel, the Round Table was held. Participants of the Round Table, Georgian and Foreign scientists, drew out the joint communiqué.

 Communique

 Program
To view photo gallery please visit this link