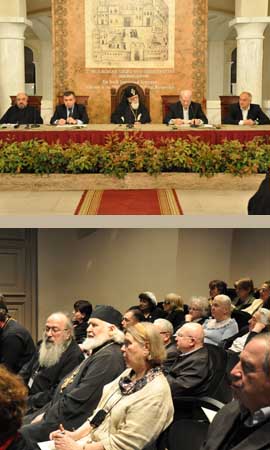 SCIENTIFIC MEETINGS
THE FOURTH INTERNATIONAL SYMPOSIUM
In Tbilisi on 15-20 May, 2011, the Fourth International Symposium "Georgian Athonites and Christian Civilization" was held which was dedicated to the 1000th anniversary of Giorgi Mtatsmindeli. This great Georgian thinker, philosopher, translator and organizer of monastic life has a great merit in strengthening of state consciousness and revival of the Georgian culture and, generally, Christian Civilization.
Scientists from Georgia, Germany, Italy, Lithuania, Poland, Russia and the U.S. took part in the Symposium.
His Holiness and Beatitude, the Catholicos-Patriarch of All Georgia, Archbishop of Mtskheta -Tbilisi and Metropolitan of Tskhum-Abkhazia Ilia II attended the Symposium and delivered a greeting speech.
Chair of the Parliament of Georgia, Mr. David Bakradze greeted the Symposium.
Actual problems of theology, history of Georgian church, philological science and art were processed at the Symposium that revealed the distinguished merit of Georgian Athonite fathers in development and strengthening of orthodox civilization. Special attention was attracted to the reports about unknown or less known episodes of biography of St. Giorgi the Athonite and about the theological importance of the liturgical work translated by him. The consideration about Caucasia and making the second Byzantine Commonwealth and the peculiarities of its formation attracted a special interest at the Symposium, besides, a special attention was paid to the role and significance of the Georgian Athonite monks in Georgian politics and their role in Georgian painted manuscripts on the Mount Athos and Constantinople.