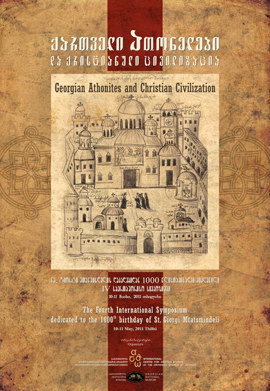 10.05.2011

THE FOURTH INTERNATIONAL SYMPOSIUM IN TBILISI
The Fourth International Symposium in Tbilisi
Georgian Athonites and Christian Civilization
The Symposium is dedicated to the 1000th birthday of St. Giorgi Mtatsmindeli
On 10-11 May, 2011, with the blessing of Catholicos-Patriarch of All Georgia Ilia II
,
the International Symposium – "Georgian Athonites and Christian Civilization" was held. Its organizers were International Centre for Christian Studies at the Orthodox Church of Georgia and Georgian National Museum
. The Symposium was
dedicated to the 1000
th
birthday of St. Giorgi Mtatsmindeli – a
great Georgian thinker, philosopher, translator and organizer of monastic life. Giorgi Mtatsmindeli has a great merit in strengthening of state consciousness and revival of the Georgian culture and, generally, Christian Civilization.
 Today, in our country, historic tradition of cooperation of the state and the church is restored. Activity of Giorgi Mtatsmindeli is the best example of such tradition. Designation of this jubilee in international area reveals many centennial state culture of the Georgian nation all over the world.
 Scientists from Georgia, Germany, Italy, Lithuania, Poland, Russia and the U.S. took part in the International Symposium.

 Program
To view photo gallery please visit this link